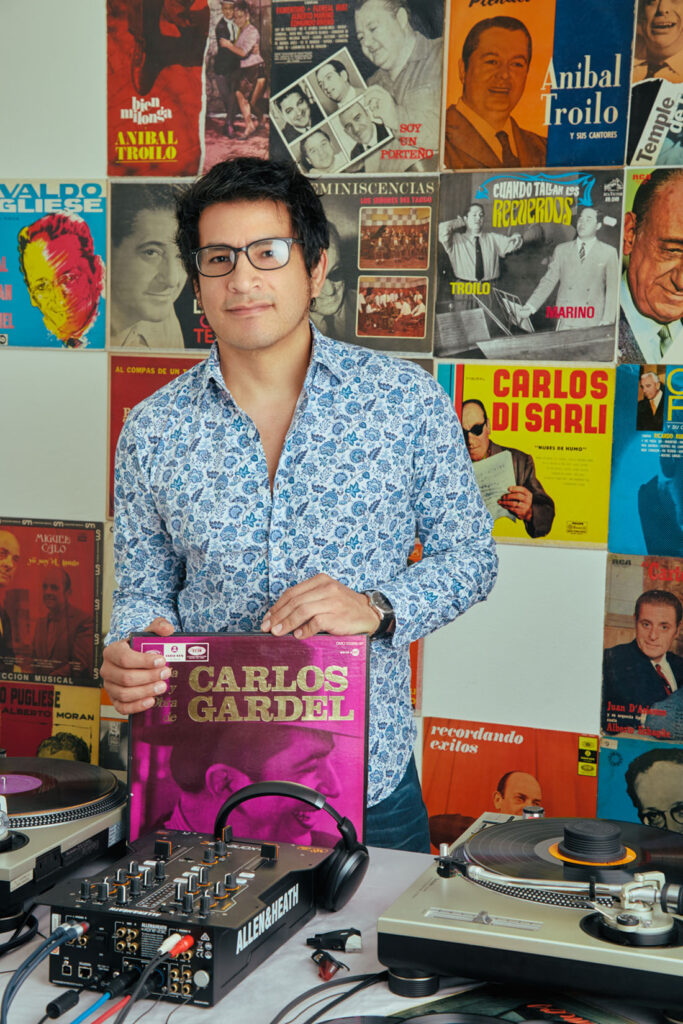 In 1995 a Carlos Gardel compact disc came to my place with a magazine in sort some of promotion were, a famous artist CD was "gifted" with the weekly paper thing. This was the first touch with tango that I can remember. His voice and music where installed immediately on my heart, in other words it was "love at fist hearing". I'm from Colombia where a big tango listening tradition started when sadly, Gardel died in our ground. A seed was planted.
I did progressively become more and more interested in Tango music, getting what I could from some friends who had original Argentine music records and CDs. In the 90s it wasn't easy to get tango stuff especially when people I knew at that time were mostly into Rock and Roll and other music genres. But one day in 2004, I ended up entering in a tango bar in Bogotá, "Cafetín de Buenos Aires" and TANGO said the neon lights in the window. That beautiful place was my temple for many years. There, I learned lots about the orchestras, singers, musicians, poets and the history of this great music. In the "cafetín" I also had more access to more music and met great "tangueros" who kindly shared their knowledge with me.
One day in 2013 I left Colombia, after a time apart from tango while I was starting my staying in Australia, I was missing a place where to enjoy sharing tango, so I found a tango dance teacher and started my dancing path which came with something I wasn't expecting: become a tango DJ. My previous knowledge was a great strength to jump into those unknown waters. In 2011 I started to collect tango vinyls, I had taken a few to Melbourne that were the first ones I played to make people dance so far from my country, something great was happening, I was being paid for playing the music I love.
I made great friends in the Australian tango scene and became more and more entangled with this beautiful music. After a few life adjustments, in 2018 I moved to Buenos Aires, where I am part of this great Machine that is our Tango Scene. Here, I play tandas that make people go back home very happy.
I still try to understand and learn what Tango is. For me, it is a great emotional expression from Buenos Aires people, in those times where many cultures were mixed, when Argentina was a land of hope for many migrants at the end of the 19th century and beginning of the 20th. Tango is a historical document that one can dance.